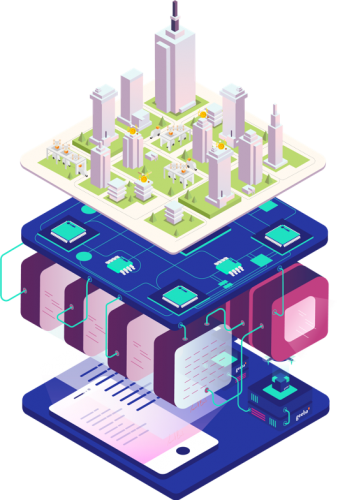 Geeba: Geeba is a decentralized delivery ecosystem. Powered by blockchain technology, it enables businesses to operate deliveries with autonomous vehicles and smart hubs.
The Task: Geeba asked for an ICO website in order to raise capital for their project. Our highly experienced and skilled team assisted them with end-to-end development from initial architecture to final release. We eventually developed an optimized ICO solution as per Geeba's business requirements for launching a successful customized token with our ICO platform built in a highly secure and scalable way.
The Project: An attractive ICO (Initial Coin Offering) website for crowdfunding cryptocurrency with a unique platform design distinguishing it from any other project.
We created an attractive website that includes all the data that potential investors might be looking for. Our ICO web page included various interactive sections to ensure the success of the project:
Based on the premise that an intuitively-designed landing page is crucial to the ICO success, we used an original layout and a stylish design while embedding essential information and data about the project along with a cool countdown timer that marks the beginning of the crowdsale and the total amount raised via the ICO as it progresses. We have also included a platform to ensure a protected and successful payment process.
The website also included a section that details information regarding Geeba's project goals and technological innovations through videos. Bearing investors in mind, we wanted the website to be presented in a way that helps them understand what they are investing in. This section also included figures and graphics that illustrate the information as required by Geeba.
Our team also designed an effective time-based roadmap with clear-cut milestones that give an insight about the trajectory of the product. The fully-fledged ICO development process was further broken down into small milestones with timeframes allotted for each milestone. This way, we showcased Geeba's direction specifically as required.
Geeba is sourcing its funding through their own Geeba token which we neatly presented in this important section. We provided all needed insights and figures with professionally-designed custom panels and graphs.
Geeba wanted to stand out from standard ICO websites, therefore, our stunning UX design focused on providing users with an outstanding experience through an appealing bold style with a balanced color palette, isometric illustrations, and descriptive infographics showcasing something the users would know and understand while evoking their interest.
Our richly-experienced, highly-performant team of developers and designers put in the best of their efforts to ensure the successful implementation of the ICO system. We full-proofed the implementation so that no gap remains between the client's business expectations and our working process.